How To Start A Business From Home
An American Dream - To earn an income from home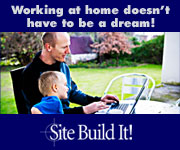 Why would you want to know how to start a business from home? The reasons can be as different as the individual people wanting to start a business. The following are possible reasons for starting a home centered business:
You don't have the capital to start a business away from home.



You hate your job.



You are unemployed.



You want to be independent of an employer (more freedom to chose work hours).



You want to make more money than you can by being employed.



You are a driven person, with a high need to be successful.
Steps On How To Start A Business From Home
The steps to starting a business are pretty universal. In some cases, you can skip some of the steps, because they have already been done for you. An example of this is a franchise or an existing business. You just need to follow the plan that is already laid out for you.
When you start a business from scratch, you must perform all of the steps. The steps that are necessary for your success are as follows:
Decide on the business idea or concept to pursue. You can get help with this by using the following tools: Decision Making Model In Five Steps and Decision Matrix.



Make a business plan. See Business Plan for help on how to do this. Your plan should include a market study(supply and demand), a marketing plan(how you are going to make sales and who you are going to sell to) and a financing plan (how much money will you need and were will it come from?)



Execution. If you have spent the time to prepare a good plan this part will be relatively easy. You already have a blueprint.
Here Is A Business That I Started
Dee Reavis here. I wanted a business that would use the background and education that I have. A small website seemed ideal for me. I could write about subjects that I know and love and get paid for it. Learn more by watching the video below.
Summary
You have the basics of how to start a business from home. The ingredients given are very generic. You must provide the spark. It must be an business idea that comes from you. It must be something that excites you more than the television set. If you persevere, you can have it all! You can have freedom to choose the hours that you work. You can have money to spend on leisure. You can provide for your family in a manner you would like them cared for. Finally, you will be respected as a successful business man or woman.
Search For More Business Analysis Information
Custom Search
© 2006 - 2014 Stellar Force